You may know that HubSpot is synonymous with inbound marketing, but do you know how HubSpot works? At its core, the software empowers businesses to focus on customer-centric relationships — and ultimately grow better, not just bigger.
What is HubSpot software, and what can it mean to your company? If you hold a license, your teams likely have an understanding of Marketing Hub or Sales Hub and the CRM. They may also have limited exposure to other HubSpot capabilities.
All of the tools your teams currently use are helpful in their own right, but consider this:
You're missing out on the mega-power of HubSpot software that happens when the platform used holistically to simplify, streamline, and share information throughout all of your revenue-driving operations.
Let's unpack that a bit. 
What Does HubSpot Do?
The HubSpot platform basically provides every software your marketing, sales, customer service, operations, and website teams need — all in one perfectly synchronized environment. In other words, it provides a single source of truth for all your customer-facing teams. 
Pro tip: for any additional software you need as part of your revenue operations tech stack, there's almost certainly a tool that integrates with HubSpot available in the marketplace.
Suites of HubSpot tools — called Hubs — and the Smart CRM are enhanced by artificial intelligence (AI) and aligned on a comprehensive Customer Platform that's used across your organization including: 
Website hosting and design
Content management
Marketing automation and program management
Sales enablement and automation
Customer service tools and automation
Data appending and automation
Reporting and analysis
This synchronization puts the power of customer data to work all across your revenue operations. In turn, your teams create "customer relationship magic" and increase customer satisfaction by effectively reducing friction across the customer journey.
Now that we know what HubSpot is, let's get into the proof that answers another big question: "What is HubSpot used for?" (or, "What's in it for me?")
Take a look at some common challenges we hear from our industrial clients and how the seamlessness of the purpose-built HubSpot ecosystem drives timely, impactful solutions. 
Challenge: Friction Generated by Frankensystems
If you're struggling to connect and align teams using cobbled-together systems, you know what "Frankensystems" can look like. Worse, you know how well they work together (**cough, not at all). They're often the legacies of department silos, or the result of mergers or acquisitions.
Frankensystems are truly monsters. They create chaos and make it a constant battle to get consistency, cohesion, or operations-wide control over information.
Solution: Sales, Marketing, and Customer Service can collaborate and work together better when they can rely on a single source of truth for customer relationship management. That's the HubSpot Smart CRM.
Challenge: Developer Dependency
When marketers can't update web pages, design emails, or publish landing pages without developer help, that's more than a bottleneck; it's a choke point. Having to rely on developers to execute these basic prospect and customer communication operations costs time and money. Plus, the back-and-forth gobbles up efficiency.
Solution: If you're using Marketing Hub but still haven't moved your website to the HubSpot CMS Hub, it's time. HubSpot always offered website hosting, but formally launched CMS in 2020. And in 2021, HubSpot beefed up its website hosting capabilities to include business unit subdomains, so you can efficiently manage all your assets in a single system, without adding unnecessary complexity. It's simply the most marketer-friendly CMS platform you can find.
Challenge: Subpar Sales Support Tools
Sales leads need appropriate and timely responses if they're going to move closer to purchase. But when teams don't have the tools they need to effectively manage and follow up on the leads that come in through your website, you run the risk of missing opportunities and losing out on deals.
Solution: The valuable roster of tools HubSpot Sales Hub HubSpot Sales Hub provides can help teams close more deals. You'll find:
Meeting scheduling
Automated sequences
Email templates
Snippets
1:1 video
Documents library
Deals dashboard
Compliance
The tools in Sales Hub save time and effort while helping your Sales teams respond to leads with the information they're looking for and the personalized communication they expect. 
But wait, there's more… HubSpot announced at INBOUND23 that they are launching new Sales Hub tools to help teams prospect and manage deals even better, and incorporating AI into Sales Hub to help sales teams spend more time doing what they do best instead of administrative tasks.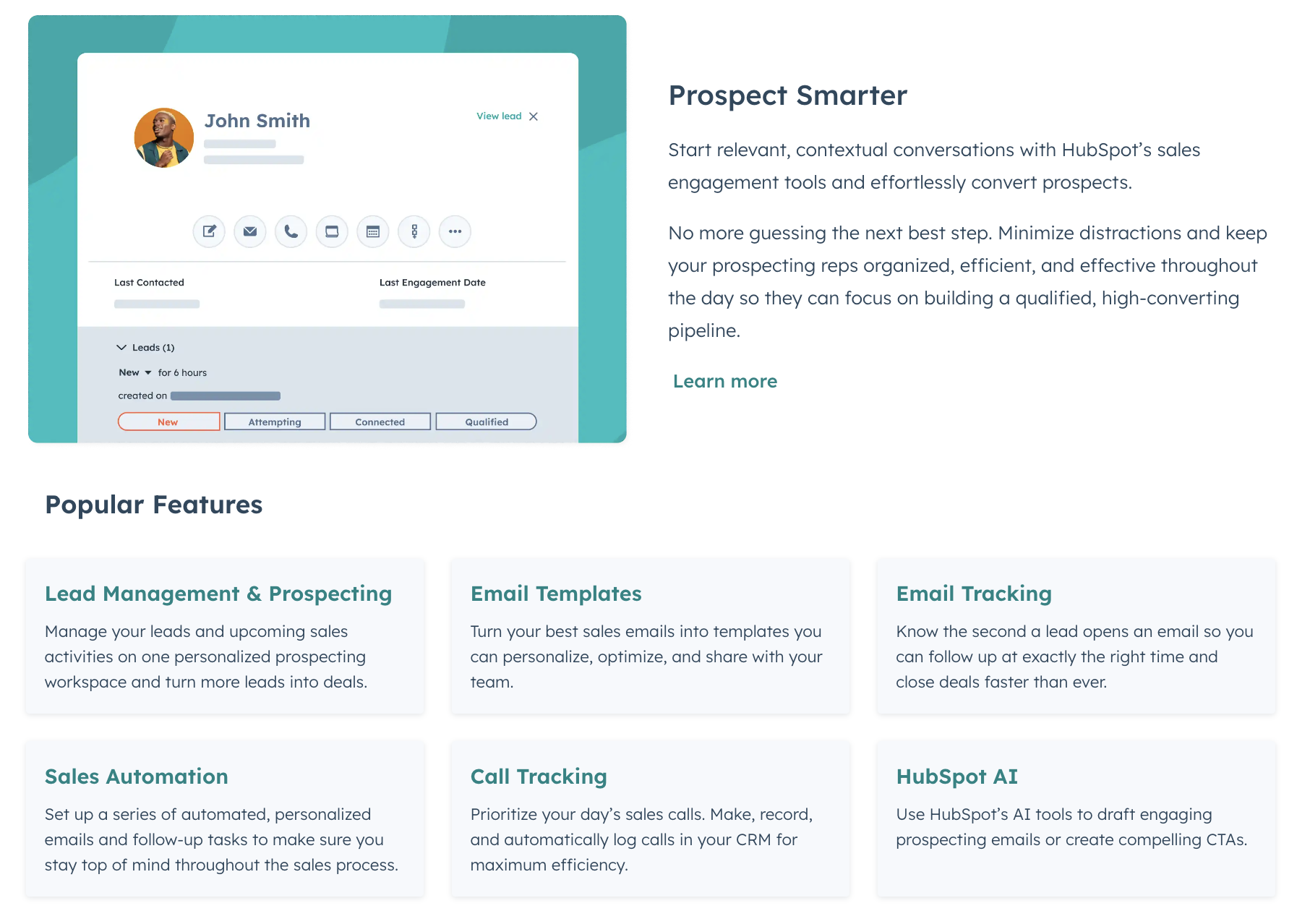 Challenge: Customers Falling Through Cracks
If your customers have to work too hard just to be your customers, those relationships could be in danger. It could be unanswered support requests, or customers having to repeatedly provide the same information to support teams. It could be a lack of self-serve tools for frequently asked questions and easily resolved issues. Or, maybe you need a better way to systematically collect customer feedback so you can actually use it to improve your products or services.
Solution: With a range of proactive customer support tools, HubSpot Service Hub makes it a whole lot easier to be your customer while closing the loop on revenue operations. Consider these functions that HubSpot offers and how you could put them to work for you and your customers:
Challenge: You Don't Know What You Don't Know
Or worse, maybe nobody knows what they don't know, and the blind spots are making business decisions harder. Frankensystems can exacerbate the issue. Your bolted-together system could slow down your ability to uncover the data you need to make important decisions or lead you down the wrong path with old, non-synced data skewing any insights.
Solution: Keep the data clean and uncover its insights with HubSpot Operations Hub. It allows for seamless data syncing, data automation, and custom coding for real-time actions and continuous data flow between just about any operations where it needs to be used.
RELATED: GET OUR GUIDE TO REVOPS FOR COMPLEX B2Bs AND INDUSTRIALS
A Single Source of Truth For All Your Operations
The benefits of using a single, connected HubSpot Smart CRM and Customer Platform for everything are practically self-evident, but it's really all about information: not just all teams using the same data, but making sure there's easy access to up-to-date, customer-centric, easy-to-use data ready for the right person, in the right place, at the right time.
HubSpot is designed to be your single source of truth, guiding all areas of your business to meaningful, measurable growth.
As you're starting 2024 planning, get the guidance on the tools and strategies you need to achieve your business goals from the Weidert Group. Our dedicated page, Why Go HubSpot for Inbound Success, is your chance to dig into why we're avid HubSpot users and to get our best recommendations for using the software to grow your complex industrial company. Click the link below to go to the page now, or request a consultation if you're ready to talk it out.