Making the switch to streaming is a big deal for any aspiring cord cutter. If you're used to tuning into things like live sports, local news, and on-air special events, you may be wondering how you can still access live television without paying for network TV. This is where live TV streaming services come in. 
With these services, you can still cut the proverbial cord and won't need a linear network TV subscription. There's no additional equipment purchases, rentals, or installation required—just watch to your heart's content once you subscribe to one of these streaming platforms, and save money in the process. Live streaming services are convenient since you can watch on a multitude of devices as well, from a big screen TV to a computer, tablet, or smartphone using the mobile app.
Which live TV streaming services are the best? Some are free or have free tiers, others are available for a nominal fee. But the best live TV streaming services offer a good balance of affordability with an expansive selection of content, plus content you'll actually want to watch. And, in most cases, you can cancel any time without penalties. Here's what to know about each live TV streaming service before signing up.
1. DirectTV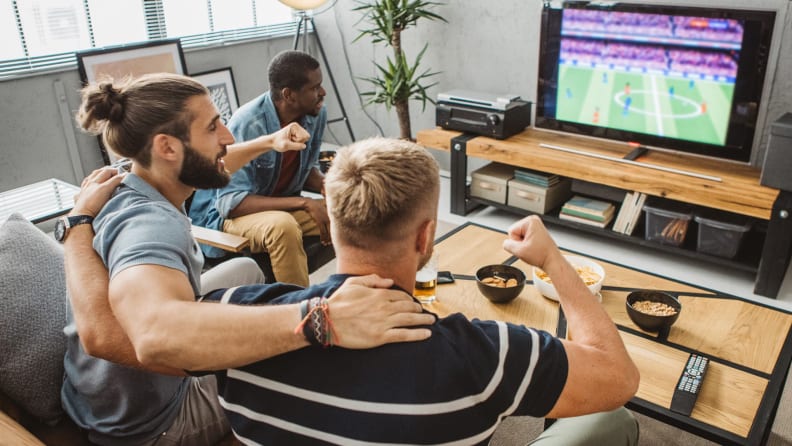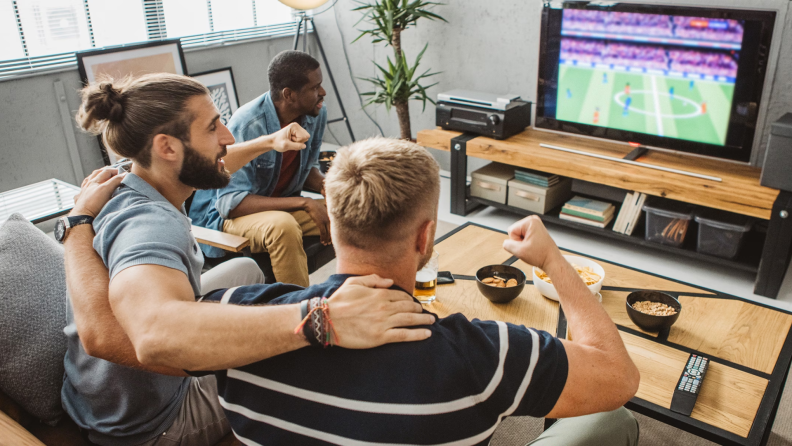 Cost: Starts at $65 a month
What you get: 75+ channels including ABC, CBS, Fox, NBC, PBS, AMC, CNN, Disney Channel, ESPN, ESPN2, Nickelodeon, and more (market dependent)
Free trial: Yes
Contract: Yes (24 months guaranteed pricing with autoplay and paperless bills)
Best for: Sports fans
With DirectTV, you get tons of channels from which to choose, including local channels. And while there are no individual user profiles for different family members, you can stream on up to 20 devices simultaneously, including three outside of the home. So, you can catch the big game while the kids watch their favorite sitcom at the same time. 
The cloud DVR even allows for storing up to 20 hours of live content to watch later (in case you just can't stay up late to watch your favorite talk show). But this feature adds another $10 per month to the cost for existing subscribers (new subscribers get unlimited DVR capabilities). Pay another $5 a month on top of the cloud DVR options for the capability to fast forward or skip through commercials. 
It's easy to flip through channels like you would with a linear TV service. The DirectTV Stream Choice option, which costs $85 a month, adds tons of speciality sports channels, including ACC Network, Big Ten Network, MLB Network, NBA TV, SEC Network, and more, ideal for sports fans who love watching all types of sports. (You'll need to pay another $14 a month to access Regional Sports Networks, known as RSNs.) 
The highest end plan is $110 a month and adds even more sports channels, like CBS Sports Network, as well as channels like Discovery Family, FX MObie Channel, NHL Network, Starz, and Encore, and includes RSNs in the base fee. With all three plans, you can either use your home internet or choose to connect via satellite.
2. Sling TV Blue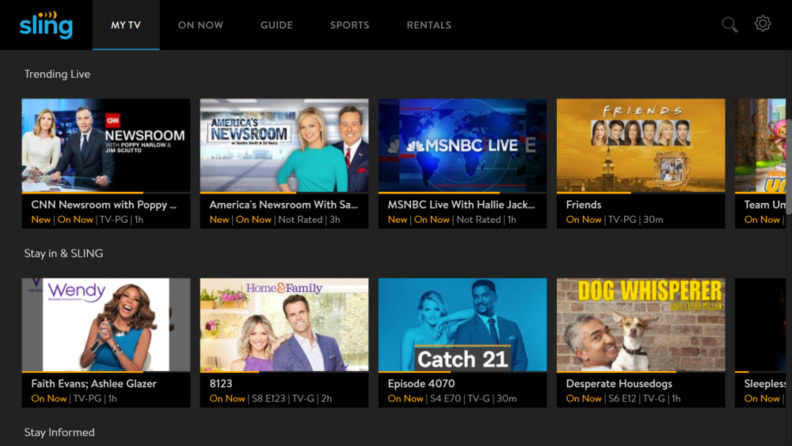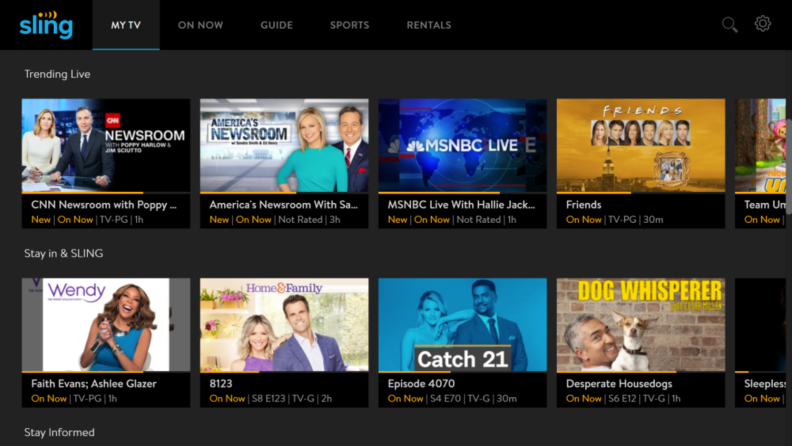 Cost: $45 a month
What you get: 40+ channels including ABC, Fox, NBC, Bravo, NFL Network, HGTV, TNT, FS1, TBS, CNN, Fox News, TLC, and more (market dependent)
Free trial: No
Contract: No
Best for: Those on a budget
Sling TV has a few different options, with Sling TV Blue being the one that offers access to the usual channel selection along with Fox and Discovery. If you want ESPN and Disney, you'll need Sling Orange, which is $40 a month, or you can combine the two for a discounted rate of $60 a month. 
The biggest draw with Sling TV Blue is the price, however. It's much cheaper than the others and still offers access to those key channels, though pricing and availability may vary slightly depending on location. You get up to three simultaneous streams but there are no individual user profiles. Store up to 50 hours of content on a cloud DVR with the base package or increase this to 200 hours for an additional $5 a month. You can also fast forward/skip through commercials. 
With an easy-to-use interface and discounts on the first month (there isn't a free trial), Sling TV Blue might be missing some key channels like CBS, Animal Planet, and ESPN (unless you bundle it with Sling Orange). But if you just want to be able to watch some of your favorite shows and won't miss those omissions, you'll save a bundle.
 If you find you're missing a particular channel you want, you can add extras for $6 a month for each, including mini channels in the comedy, sports, or news categories, or even add rentals and pay-per-view events as desired (and available). Plus, there are often promotions for discounts on your first month, and with no contracts, you can try it out and decide if you want to renew or cancel.
3. Hulu Plus Live TV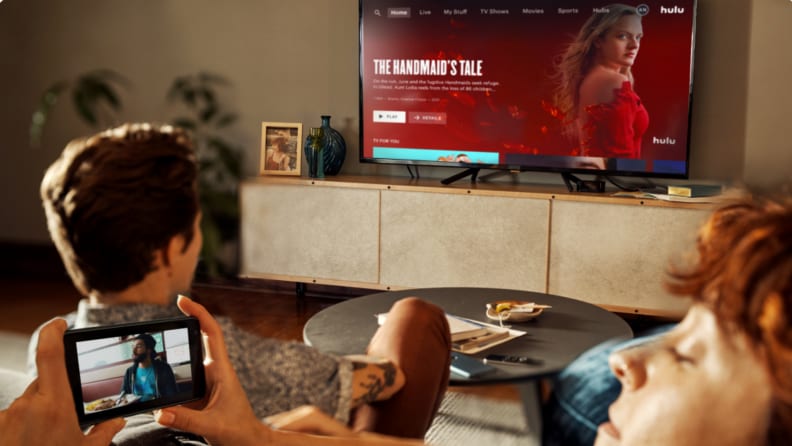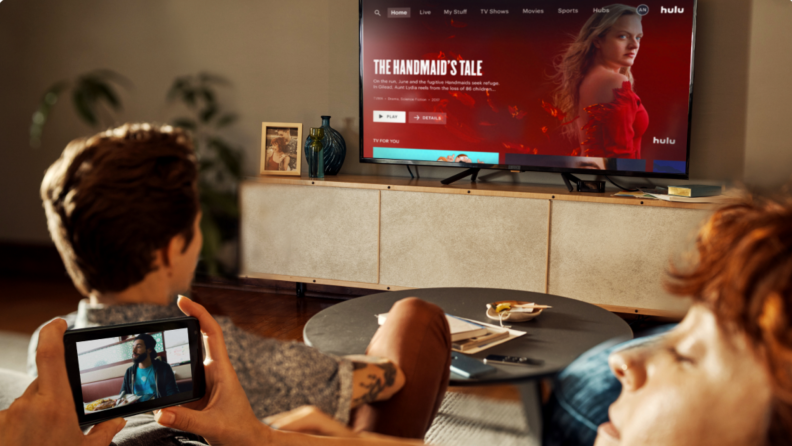 Cost: $70 a month
What you get: 90+ channels including ABC, CBS, Fox, NBC, PBS, Magnolia, HuluOriginals, and more (market dependent)
Free trial: No
Contract: No
Best for: Those who want variety
Offering a nice mix of both live streaming as well as on-demand content, along with Hulu's fabulous originals (think Emmy-nominated and winning shows like The Bear and Only Murders in the Building) as well as Disney+ and ESPN content (there's an additional fee for the ad-free version), Hulu Plus Live TV is a great option. 
You can stream up to two shows or movies at once or pay an additional $15 a month to be able to enjoy unlimited simultaneous streams. It comes with multiple user profiles, making it a great option for big and extended families. A big plus is unlimited cloud DVR storage with just the base subscription, as well as the option to fast forward or skip through commercials. 
Even at $85 a month for the whole she-bang, Hulu Plus Live TV is more affordable than most cable TV subscription options. And while you might not get the biggest selection of content, you get access to top shows, both new and old. It's easy to cancel online or by phone anytime before the next billing cycle. 
4. YouTube TV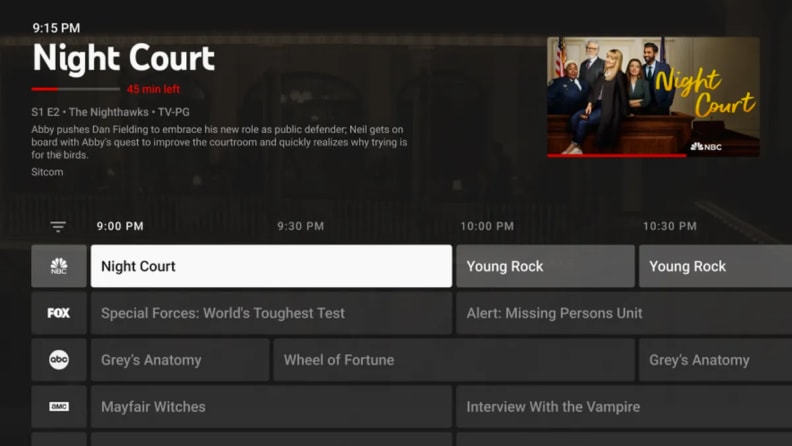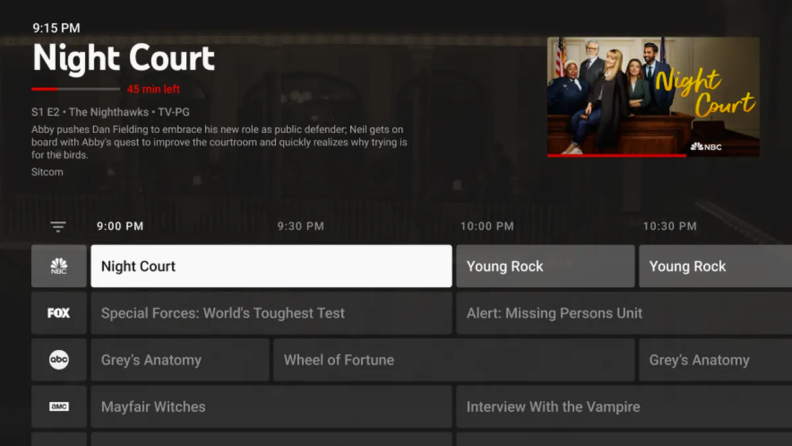 Cost: $73 a month
What you get: 100+ channels including ABC, CBS, Fox, NBC, PBS, ESPN, AMC, CNN, Fox News, Comedy Central, Nickelodeon, NFL Network, TNT, and more (market dependent), NFL Sunday Ticket (added fee)
Free trial: Yes
Contract: No
Best for: Watching on the go
It's no surprise that YouTube TV, which is owned by Google, offers the most expansive catalog of shows from which to choose. In late 2023, this will also include Hulu content. It's simple to use, albeit not as flashy as some of the other services. Enjoy up to three simultaneous streams with the base package or pay an additional $20 a month for unlimited and 4K streams; you also get surround sound for live broadcasts, where available, which is a plus if you have invested in a killer surround sound system at home. 
With up to six individual user profiles (complete with personalized recommendations), unlimited cloud DVR storage, fast forward and skipping capabilities, and three simultaneous streams, YouTube TV is one of the most feature-rich options, though it's priced on the higher end of the scale. 
Keep in mind, however, that there isn't a ton of 4K content unless you add another $10 a month for the 4K Plus version (which also unlocks unlimited simultaneous streams), so YouTube is the best option for watching on the go versus on a massive 75-inch TV. (There is some 4K content, like livestreams of college football for an additional $20 a month.) 
In addition to a free trial, there are often discounted rates for the first three months if you sign up when a promotion is on offer. You can also enhance the service with add-ons (for a fee) for everything from more live sports to Spanish TV channels.
5. Fubo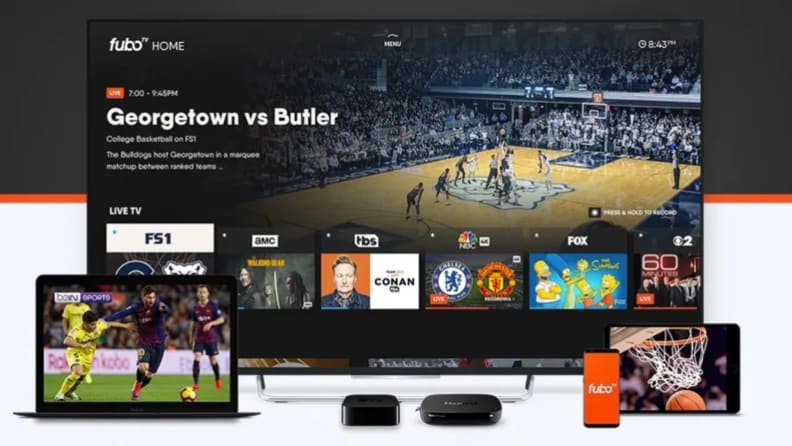 Cost: $75 a month
What you get: 70+ channels including ABC, CBS, Fox, NBC, FS1, E!, Fox News, HGTV, MSNBC, ESPN, FX, Nickelodeon, NFL Network, and more (market dependent)
Free trial: Yes
Contract: No
Best for: Footballs fans
With up to 3 simultaneous streams per account and individual family member or user profiles, everyone can watch what they want, when they want with Fubo. You can "record" up to 250 hours of content for later viewing as well as fast forward or skip through commercials. For an additional $17 per month, you can up this to 1,000 hours if you want to be able to record plenty of shows and watch at your leisure. 
Football fans, especially, will love that there's an optional RedZone offering and regional sports networks (RSNs) offering everything from NBA, NHL, and MLB games, with an additional fee. Fubo is expensive, so you might find better value with the other options that come in around the same price. But for sports fans, Fubo might be a perfect fit. 
If you need more, there's also an Elite plan ($85 a month) that adds more channels, 4K quality, and the ability to watch on up to 10 screens at once; and a Premier plan ($95 a month) for a few additional premium channels, like Showtime. There's also a special Latino plan for $25 a month. for select Latino channels. Cancel any time before the next billing cycle.
6. Philo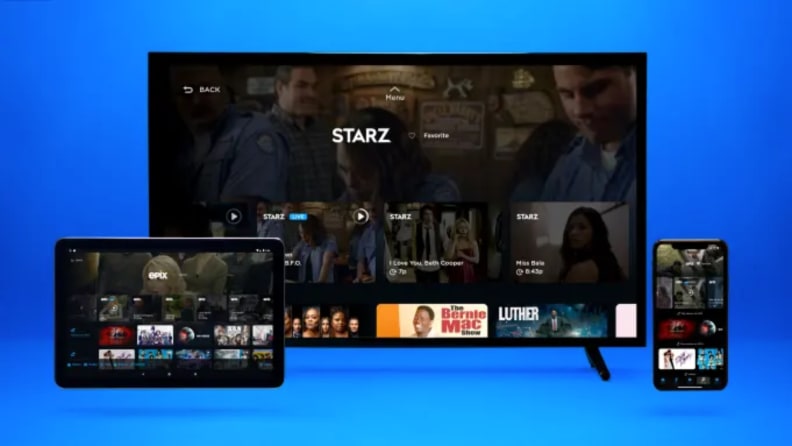 Cost: $25 a month
What you get: AMC, Comedy Channel, Nickelodeon, Magnolia Network, BET,Cheddar, Discovery, HGTV, Lifetime, Investigation Discovery, MTV, Hallmark Channel, MeTV, BBC News, A&E, and more; add-ons for Epix, Starz
Free trial: Yes
Contract: No
Best for: Reality TV show fans
If you're looking for something cheap and simple, Philo will fit the bill. You get basic channels with a focus on lifestyle and reality TV shows. You get unlimited cloud DVR storage and can add channels like Epix and Starz for a fee if desired for even more variety. 
You can record an unlimited amount of shows, stream on up to three devices, and create up to 10 profiles per account. Philo is a more limited service than the others but have a look through the offerings. If it has the channels with all the shows you want to watch (yes, it even includes shows like Yellowstone, Schitt's Creek, and Parks and Recreation as well as reality favs like Hoarders, RuPaul's Drag Race, Dance Moms, and Hell's Kitchen, you might be able to get away with this discount option.
The product experts at Reviewed have all your shopping needs covered. Follow Reviewed on Facebook, Twitter, Instagram, TikTok, or Flipboard for the latest deals, product reviews, and more.