If you are creating and designing websites with the Elementor Pro plugin, then you have probably used many add-ons and extensions. These extensions give some extra features that are not present in Elementor Pro Plugin. There are many such add-ons and extensions for Elementor Pro on the market, including Essential Addons for Elementor, Elements Kit, Happy Addons for Elementor, Premium Addons for Elementor, Livemesh Addons, Ultimate Addons, and many more.
Now, Dynamic.ooo is among those extensions, you may say, but to be correct, it is even more than that. In this review of Dynamic Content for Elementor, we shall discuss why Dynamic.ooo is more than just an add-on.
| | |
| --- | --- |
| Plugin Name | Dynamic.ooo or Dynamic Content for Elementor |
| Starting Price | 59 euro yearly for a single website |
| Best For | WordPress Users, Developers, Designers, Agencies, and Freelancers |
| Online Documentation | https://help.dynamic.ooo/ |
| Facebook Community | https://www.facebook.com/groups/dynamic.ooo |
| Discount Coupon | use "DROIDCRUNCH" at checkout, (without inverted commas) to get 10% off. (Try Coupon) |
| Tutorials | https://www.dynamic.ooo/tutorials/ |
| Support | https://shop.dynamic.ooo/support |
Dynamic.ooo Compatibility
Dynamic.ooo unearths the power of your WordPress website with the use of the Elementor Plugin. Dynamic Content for Elementor is compatible with many plugins, such as Advanced Custom Fields, Woocommerce, WPML, Search & Filter Pro, Toolset, and Pods. As such, you can definitely get great results with the plugin, which we will discuss later in this post.
Dynamic.ooo Features and Review Highlights
Dynamic Visibility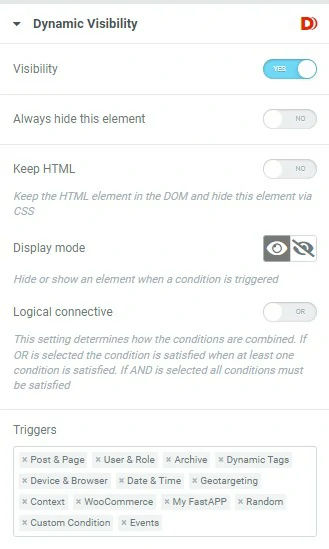 With Dynamic Content for Elementor, one can easily set the visibility of any particular Elementor widget. One can toggle to enable the visibility option. Visibility can be either shown or hidden based on the triggers. For example, one can either hide or show the element if the trigger is true. Triggers can be set based on Post, User & Role, Term & Archive, Dynamic Tags, Device & Browser, Date & Time, Context, Woocommerce, Random Trigger, Custom Condition & Events.
Dynamic Visibility Event Trigger allows you to trigger the visibility option based on the click of a trigger that can be click, hover, double click, touch start, or touch move.
Creative Widgets
Dynamic.ooo has some nice design-friendly creative widgets and extensions. The widgets assist you to bring some creative elements to the page. As such, you can keep your website design rich and attractive. Some of these top widgets include SVG Text Path, SVG FE FilterEffects, SVG Mask, SVG Blob, SVG Distortion, Reveal, Animated Text, Rellax Parallax, Transforms, SVG Morphing, Before After, Tilt, and Parallax.
Dynamic Tokens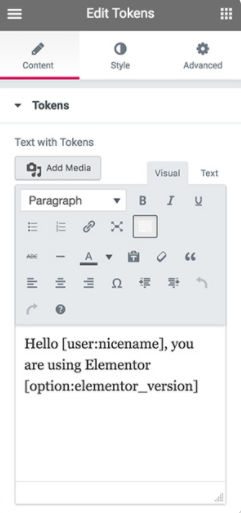 Dynamic.ooo – Dynamic Content for Elementor allows you to add token widgets. With the help of these tokens, you can add shortcodes within the post text. As such, it is possible to show various values from Current Post, Term, User, WP_Query, Date, System, and Option. These tokens can also be used to show dynamic value to any widget element. 
If you don't want to put manual value in the token field such as [post:title], then you can toggle wizard mode. Wizard Mode gives you the advanced option to choose the token from the various object. It is easy to use and very effective. 
Using Tokens is very easy and effective. For example, using [acf:fieldkey] one can instantly pull the ACF values. Tokens also support filters or PHP functions and WP functions. Their Dynamic Token documentation is very easy to grasp and makes use of the power inside of it.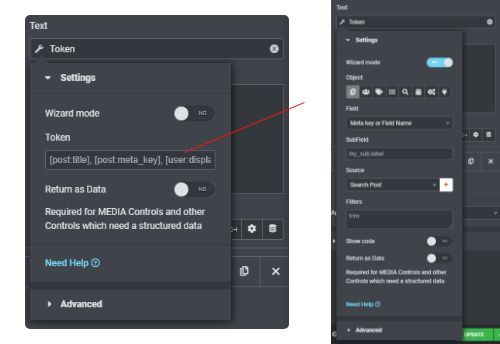 Elementor Form Extensions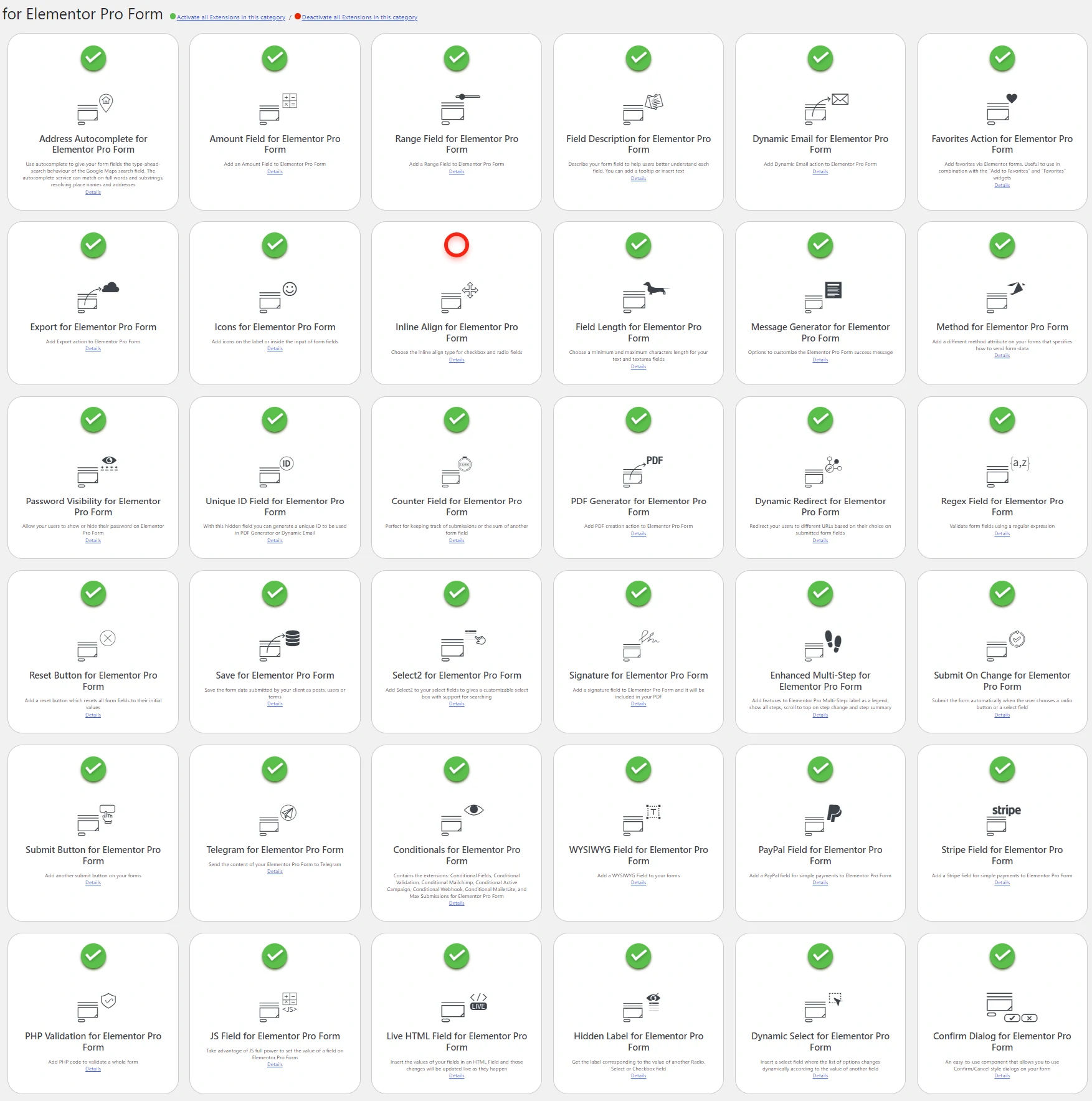 There are numerous extensions for Elementor Pro Form that you get with Dynamic Content for Elementor Plugin. Some of these really useful extensions are conditional fields, reset button, steps, save, export, dynamic redirect, method, icons, message generator, amount field & regex field. With the help of these Elementor Pro Form Extensions, you can extend the functionality of your form and obviously get the most out of it. 
Loop Animations and Scroll Reveals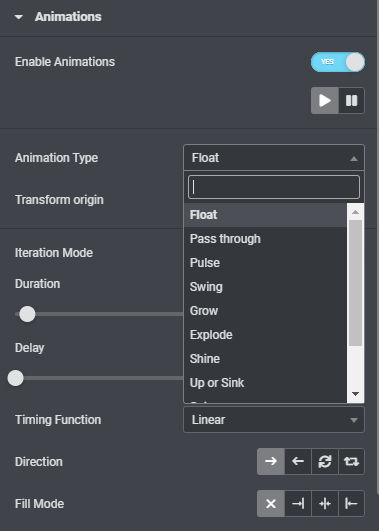 Dynamic.ooo gives some advanced features such as Loop Animations, Scroll Reveals, Transforms, Rellax Parallax, and Model Window feature. With the help of these super exciting features, you can make your WordPress website more dynamic. Loop Animations make use of keyframe-based CSS3 animations that include Float, Pulsate, Swing, Grow, Explode, Shine, Emerge, Roll and Bounce animations. One can select the delay, timing function, direction, fill mode, and duration for these animations.
Copy Paste Cross-Site
With the normal Elementor plugin installed, you can not copy any element, column, or section and paste that onto another domain. However, you can do that on the same domain. If you want to paste that on any different domain then you have no option but to do that manually or you can save that as a template, export that template and then import the same on another domain. But to what extent it is possible? Right, the Dynamic.ooo team has heard your voice, and thanks to the copy-pasting cross-site widget that allows you to easily copy and paste content from different domains. 
Dynamic Posts(old version) and Dynamic Posts(was Dynamic Posts V2)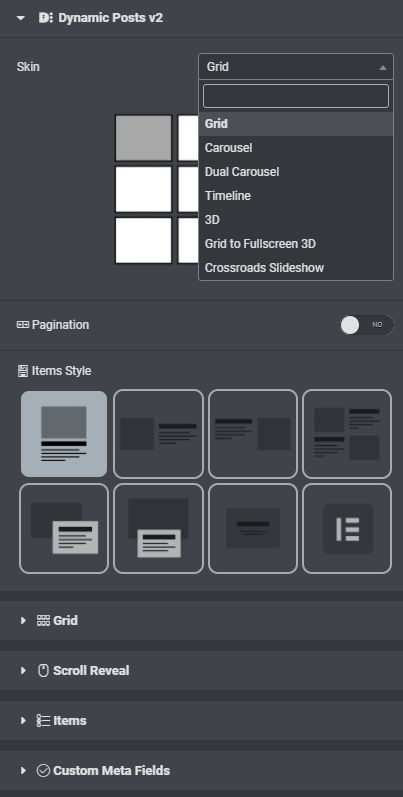 This is definitely one of the main widgets of Dynamic Content for Elementor Plugin. Because of this widget only, many users tend to buy this plugin. Basically, Dynamic Posts and Posts v2 let you show the loop content in the desired design. Elementor Custom Skin Pro is also an impressive plugin to show content in a custom skin or template. With Dynamic Posts v2 you can not only show the content in the desired template but also use various animations, hover effects and select custom meta fields.
Dynamic Users
With Dynamic Users, one can render the website users on the front end. It is very useful when you have a large website with lots of contributors, editors, authors, SEO managers or you can say many users with varied roles and permissions. In that case, you will not like to update your team page manually that is based on these existing website users. As such, you can use the Dynamic Users widget on your page to dynamically show the user's profile picture, designation or any user meta information in a nice loop.
Dynamic Cookie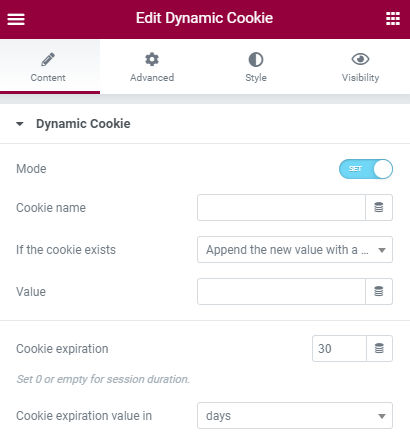 With this widget, it is possible to create cookies with elements or widgets. It allows you to easily set or unset cookies with dynamic values for the desired number of days. Cookie Expiration can be set in days or minutes. 
ACF Widgets by Dynamic Content for Elementor Plugin

Dynamic Content for Elementor is no doubt a great fit for ACF. Apart from ACF Repeater Widget, it also has ACF Relationship, ACF Google Maps, ACF Slider, ACF Gallery, and ACF Fields widgets. All of these widgets make use of data from ACF fields to show a nice image slider, gallery, or even maps on your Elementor pages.
ACF Repeater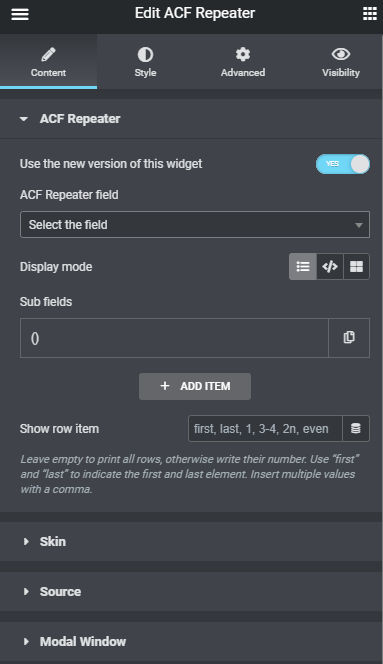 The dynamic Content plugin provides ACF Repeater Widget. The widget allows you to show Repeater Field on the frontend the way you want. There are several display options for repeater fields such as subfields, HTML & Tokens, and Template. The first display option lets you manually choose the subfields by choosing the ACF type. In HTML and Tokens option one can make use of HTML and Tokens values as the name suggests to display the repeater fields on-page. Lastly, if you have created a template for this purpose then you can opt to select the template display option and select that template.
Apart from this, there are several other options as well to display the repeater that includes the display of a number of columns, skin types ( text, grid, masonry, carousel, table, list, accordion ), and styling options.
ACF Gallery
With the ACF Gallery Widget of Dynamic Content, you can display a selected gallery in your ACF Gallery field type. There are a couple of other options in the widget to enhance the look and feel of the gallery. There are multiple skin options for the gallery such as Row, Grid, Masonry, Justified, Single Image, Diamond & Hexagon. You can also specify the number of items to be shown in a row.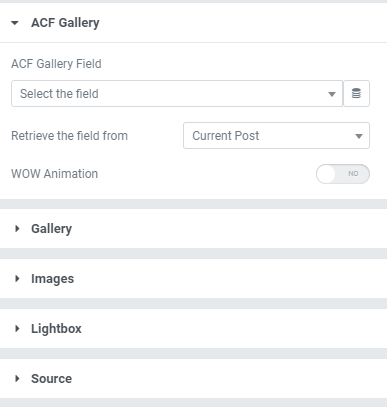 ACF Slider
ACF Slider is an advanced widget of the Dynamic Content plugin that lets you display the gallery in a slider mode. There are various customization options in this ACF Slider Widget to adjust the images, slider settings, navigation, pagination, scrollbar, and much more.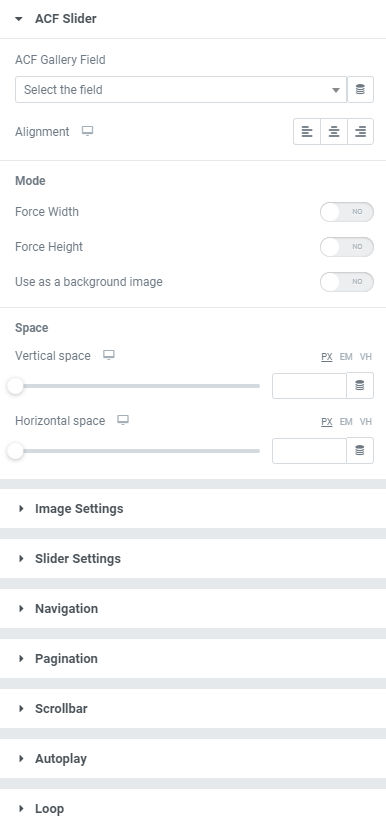 ACF Google Maps
ACF Google Maps is now Dynamic Maps. The widget supports three data types to retrieve the data for visualization viz. custom address, latitude and longitude & ACF Google Map field. There are various options to control the zoom level, scroll, geolocation, infoWindow, Map types & markers, and much more.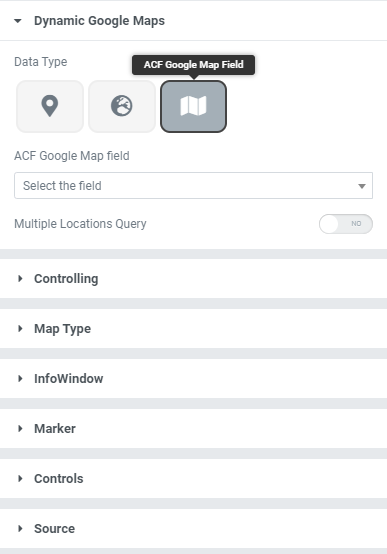 ACF Relationship
With the use of the ACF Relationship Widget, you can display ACF Relationship Field in your Elementor pages or templates. For the ACF relationship, you can freely decide to choose its render more.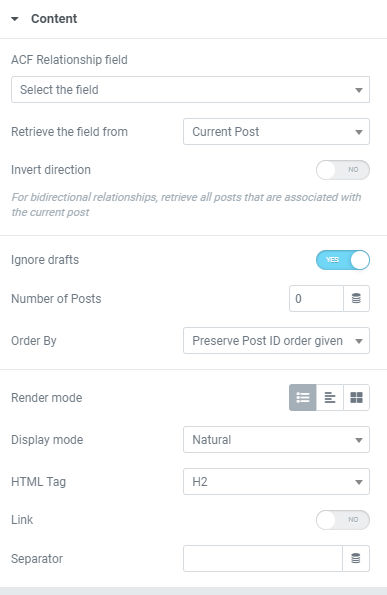 ACF Flexible Content
In the new ACF Flexible Content widget of the Dynamic Content plugin, you can display the ACF Flexible content and its layout in your desired display mode.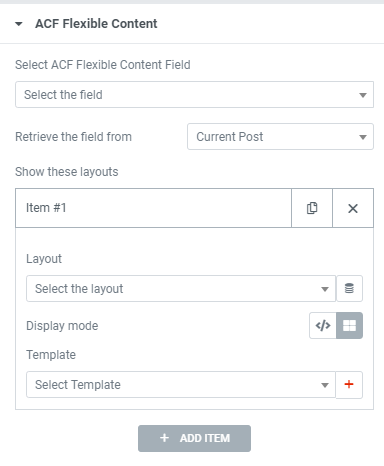 Search & Filter Pro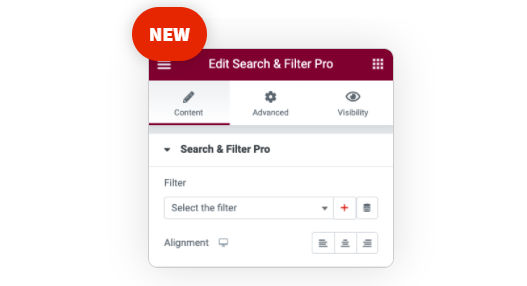 Dynamic.ooo has also introduced Search and Filter Pro widget that allows you to filter content based on taxonomies and other search criteria. However, to make use of this feature, you will need to install the "Search and Filter Pro" plugin that is a premium plugin. Once installed, you can enable search and filter for Dynamic Posts v2 widget.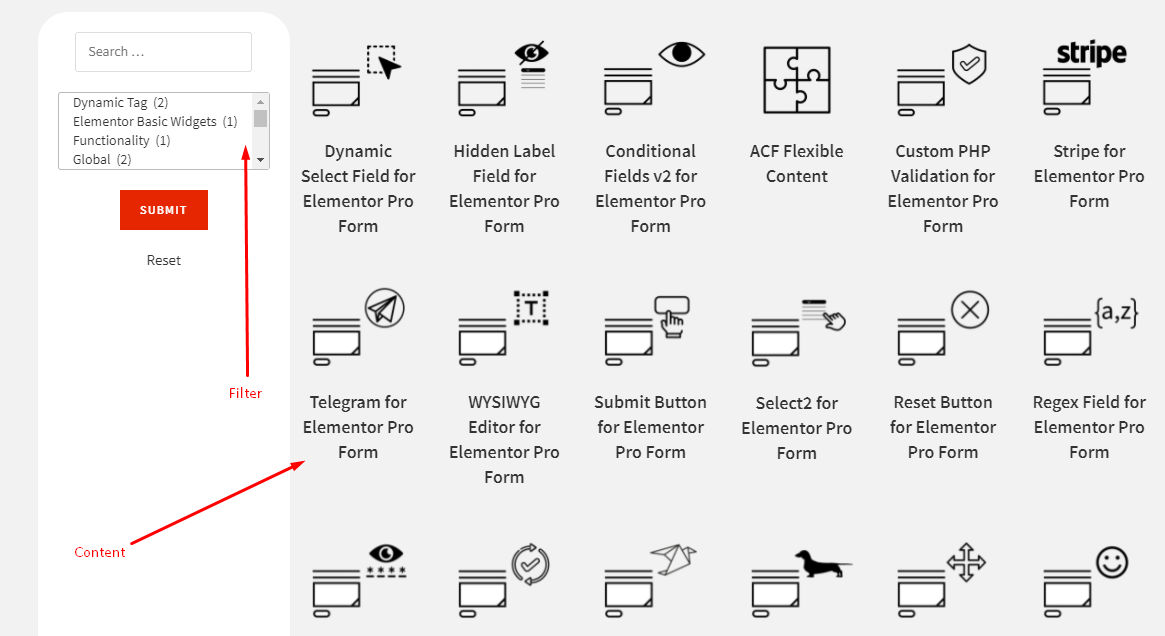 ❤️ GET DYNAMIC CONTENT PLUGIN ❤️
Signature Field for Elementor Pro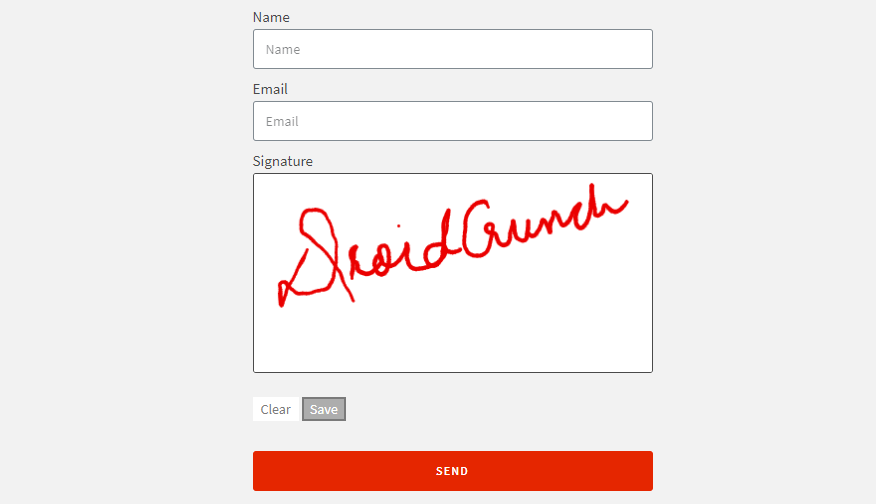 With the Signature field for Elementor Form, you can enable user signature input in your forms. You can also save the form in PDF format. This signature field can be useful in many cases.
Tracker Header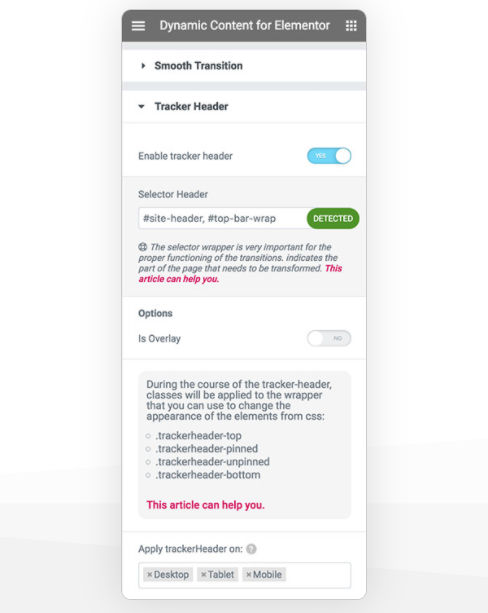 Tracker Header feature tracks the header and makes it slide out of view when you scroll down. As you scroll up, the header comes back in view.  In order to enable this extension, you only need to give a selector to your header and provide the selector values in the extension. Tracker header option is avaliable in settings > left top menu > Dynamic Content for Elementor 

Smooth Animation
Like Tracker Header, Smooth Animation also works based on the selector you provide to it. This extension also resides at the same location as of tracker header. With the help of Smooth Animation Extension, you can enable smooth motions on the selected wrapper element. There are various animation effects and loading spinner to choose from for this purpose.
PDF Button
There is a JS-based PDF button widget that lets you download page content in a PDF format with the click of this button. You have several customization options such as choosing the convertor, PDF title, and body whether it is an HTML container from the current post or any template.
PDF Generator for Elementor Pro Form
It is one of the hottest extensions of the Dynamic Content Plugin for Elementor Pro forms. The widget lets you generate the PDF from the input fields of your Elementor form. There is a DOM PDF convertor and SVG converter for generating PDF. One can use any of these depending on the requirements.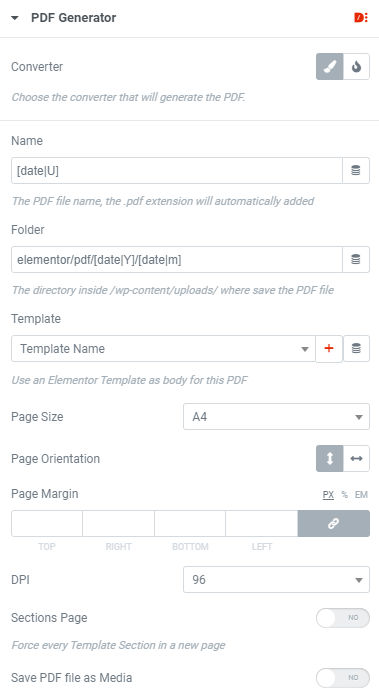 Button Calendar
With this button calendar widget, you can allow visitors to quickly add the appointment to their calendar app. The widget supports Google Calendar, Apple Calendar, and Outlook for this purpose. There are several customization options in this widget that let you design the widget so as to make it look good as per your brand designs.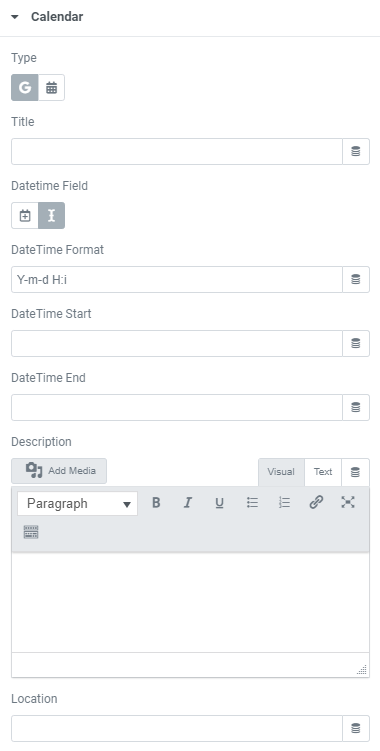 Cursor Tracker
Cursor Tracker is a trending feature that changes the look and feel of your mouse cursor. There is a graphic element in this widget that continuously follows the cursor with animated movement. It also contains scroll progress and hovers animation that makes it feel even better.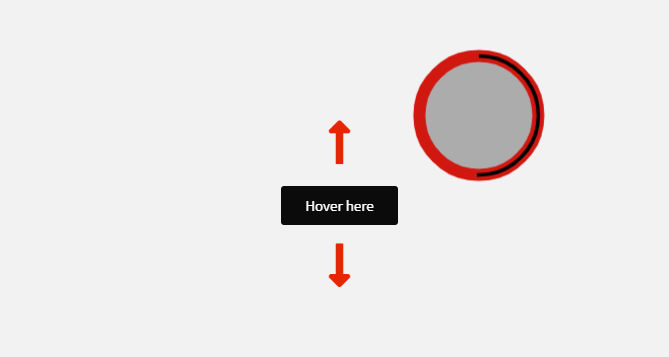 Tooltip
Tooltip is a wonderful extension, that allows you to add a tooltip to your Elementor generated elements. In the tooltip, you can specify the vertical and horizontal offset. The beauty of the widget is that the content of Tooltip supports dynamic tags. Text Color and Background of the tooltip can also be customized.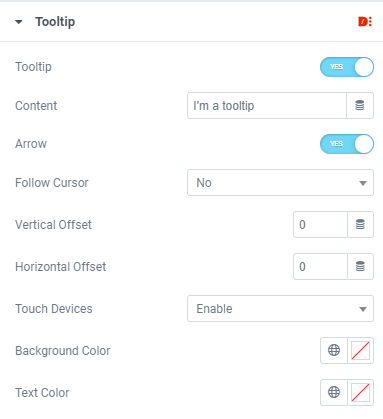 Off-Canvas Menu
Off-Canvas Menu is basically a slide-out menu designed for mobile devices. However, with this widget, you can enable the off-canvas menu for any device that will slide out with the click of an icon. 
Frontend Navigation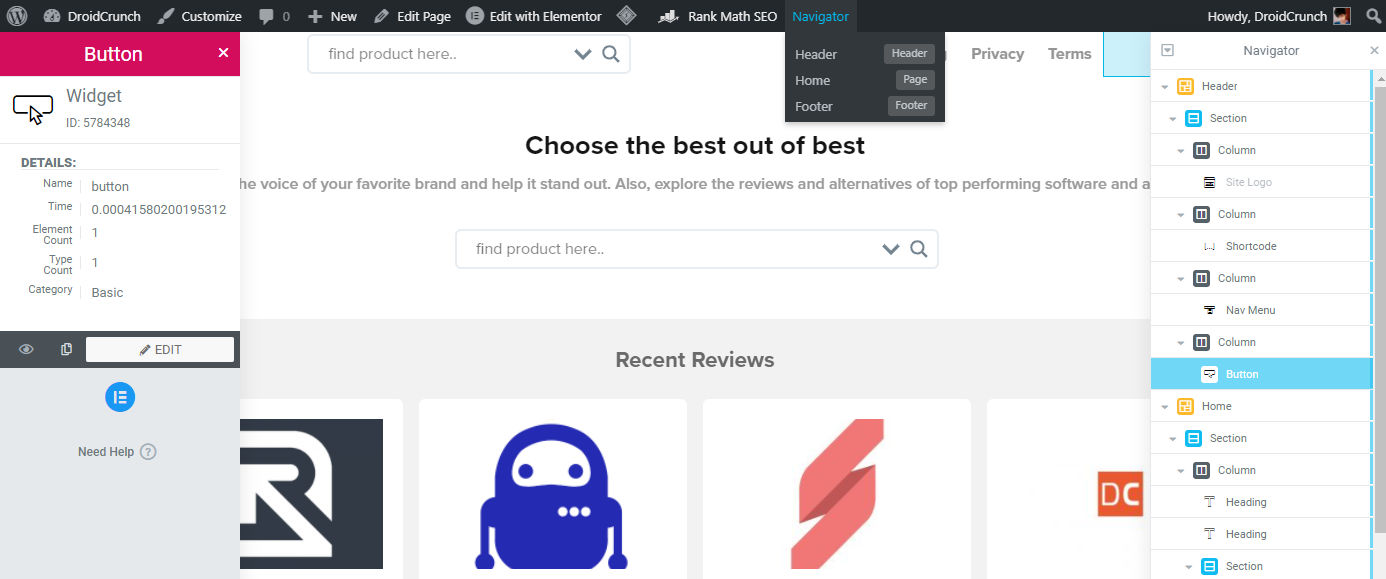 Frontend Navigation can be enabled on any page. This will give you all the elements on the right sidebar. Clicking on any item will tell the debug information for the widget. With this navigation, one can toggle visibility and easily duplicate or copy and widget. It is also a quick to edit access feature for all the widgets.
Add to favorites
With Add to favorites widget, you can allow your website visitors to favourite the posts or content which they like. They can create a wishlist and save pages for their favorite content. It works by storing data as registered users in cookies or globally inside an option.
File Include, PHP Raw and DoShortcode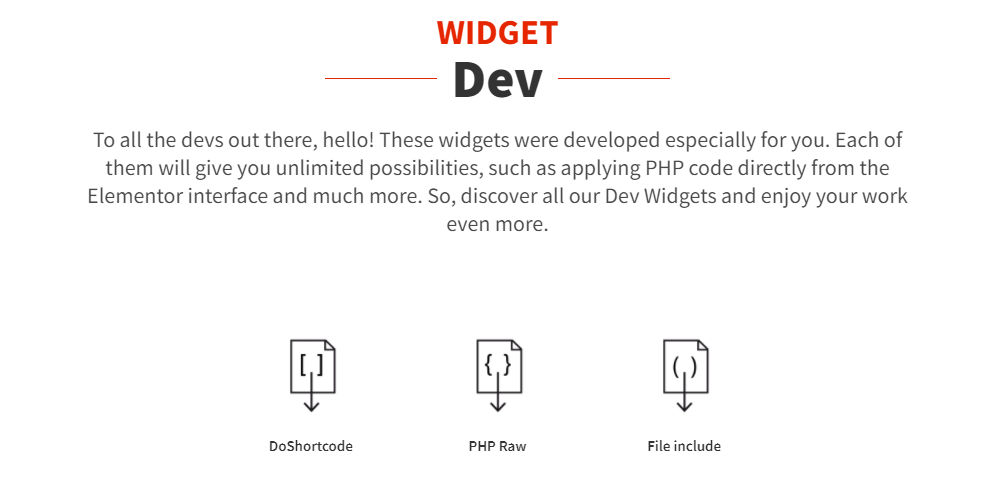 Dynamic.ooo allows you to include files that are residing in any path of your root directory. It is useful in many cases. This works as if you are writing code in a theme. 
DoShortcode lets you insert shortcodes on your page. However, Elementor Pro already allows you to do that with its native shortcode widget.
PHP Raw widget allows users to apply PHP code directly from the frontend. It opens up doors of possibilities for you. These three widgets are mainly for the developers who want to get most of the plugin. 
Copy to Clipboard
Copy to clipboard widget of Dynamic.ooo allows you to copy any dynamic text at the click of a button. The text to be copied can be either URL, code snippet or short/long text. When the visitors click the copy to clipboard button the data is immediately stored in their system clipboard which they can paste anywhere. It is a very useful widget for coupons, quotes, and many other such websites.
Well Documented
There is no doubt that the plugin is very easy to use. However, there are chances that you can be struck at some advanced widgets. Keeping that in mind, the product is very well documented. One can take advantage of their knowledge base website to learn about various extensions and widgets: https://help.dynamic.ooo/
Under the resources menu tab on their website header, there is also a "tutorials" sub-menu item that leads you to the tutorial page which lists all the interesting tutorial videos that can help you learn about various advanced widgets and extensions.
With the new UI of Dynamic Content, it is quite easy to disable or enable individual widgets and extensions.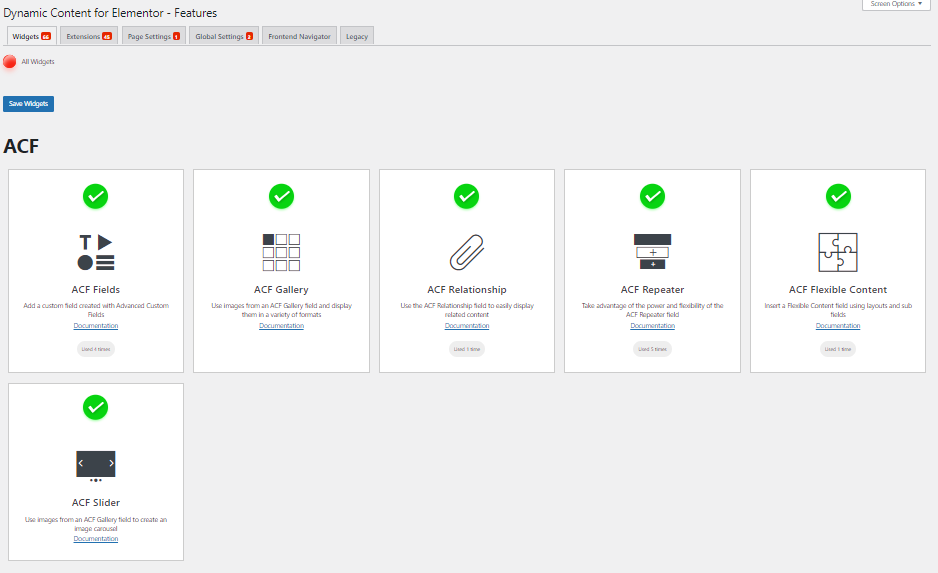 Dynamic.ooo – Dynamic Content for Elementor Pricing
Dynamic Content Plugin comes with Yearly and lifetime plans. There is no monthly plan as such. Talking about annual plans, there are three plans viz. Personal, Business & Professional. All these three plans are based on the user's requirements. If one needs a plugin for only 1 website then a Personal plan can opt. If the requirement is for more than 1 but not more than 3 websites then the Business plan is best that gives a license for 3 sites. However, if you are not sure about the number of websites then the Professional Annual plan can be purchased. Annual Professional plan gives 1000 sites license. In all these annual licenses, users get regular updates and support for a year.
If you don't want to spend on the plugin as a subscription payment, then Lifetime plans are there. Most agencies and professional bloggers opt for these plans. There are two-lifetime plans viz. Personal and Professional for 1 site and 1000 sites respectively. The cost of each plan has been shown in the screenshot above.
Dynamic.ooo also offers you a 30-day money-back guarantee for new purchases. You can buy any plan and upgrade that later.
Conclusion
Dynamic Content for Elementor is definitely a powerful plugin for WordPress. This plugin gives you tons of useful extensions and widgets that assist you in designing workflows. With the Dynamic Content for Elementor plugin, one can unlock the door of possibilities. Dynamic.ooo team is also very dynamic and devoted. As such, they are continuously working to improve product quality and features. We have witnessed many new features and widgets in the last couple of months that include Search and Filter Pro, Tracker Header, Copy Paste Cross-Site and many are there. There is no question of repenting buying this incredible plugin. In fact, this plugin is a sum-up of many great plugins out there in the market. It is a bundled plugin that gives so many features in the form of widgets and extensions.
The Review

Dynamic.ooo

PROS
Many Widgets and Extensions
Supports ACF, Pods and Toolset
Very Well Documented
Excellent Support
Regular Updates
Constant Development
Satisfies Developers without unsatisfying Designers
CONS
Costly for Normal WordPress User
Review Breakdown
Easy To Use
Flexible
Value for Money
Brand Trust
Support & Updates