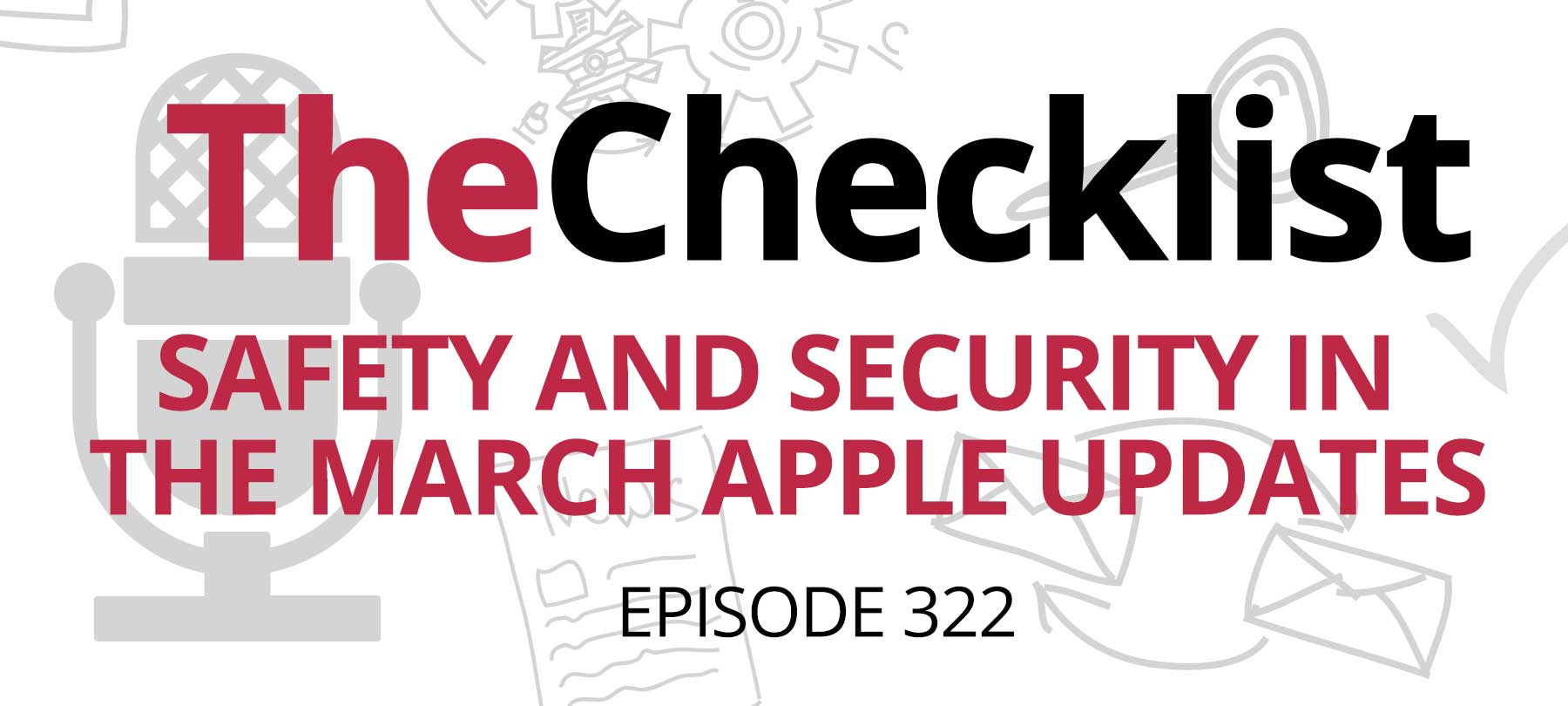 On this edition of The Checklist:
Apple updates for safety and accessibility
Security fixes for various OSes
Apple announces dates for WWDC 2023
Apple updates enhance accessibility and safety
Apple has just released a raft of OS updates: iOS 16.4 and iPadOS 16.4, macOS Ventura 13.3, watchOS 9.4, and tvOS 16.4. There were also security updates for users still on older OSes (discussed below).
Before talking about the security fixes, we want to call out a great new accessibility/safety feature included in the updates.
For folks with epilepsy and severe motion sickness, Apple now offers the ability to "automatically dim seizure-inducing flashing lights on videos," according to a piece at iDownloadBlog. As iDownloadBlog explains:
People who suffer from motion sickness and [people with epilepsy] may experience seizures, headaches and other symptoms when exposed to flashing lights. That's why you see a warning on movies and TV shows that include flashing visual effects.
The problem is, when you're watching a TV show or movie, it's not always easy to know when those effects are coming. The new auto-dim feature, available for iOS, macOS, iPadOS, and tvOS, protects users from being caught off-guard by "flickering or stroboscopic effects." Here's how to turn the feature on.
For iOS, iPadOS, and tvOS: 
Go to Settings > Accessibility > Vision. From there, look for the Motion section and toggle or click to turn on the Dim Flashing Lights setting.
For macOS
Go to Settings > Accessibility > Vision > Display and toggle on Dim Flashing Lights.
March security updates
Apple also included a host of security fixes in its OS updates this March. In addition, there were security-related updates for users still running older versions of Apple software on their devices.
iOS 16.4 and iPadOS 16.4 each address more than 30 vulnerabilities. There was also an update for an older OS—iOS 15.7.4—that fixes an actively exploited vulnerability and a number of other security issues.
macOS Ventura 13.3 addresses nearly 50 security issues. For Mac users on older versions of macOS, macOS Monterey 12.6.4 and macOS Big Sur 11.7.5 provide security fixes for multiple vulnerabilities. 
watchOS 9.4 brings a number of new features and solves 16 security issues. 
tvOS 16.4 introduces some new features and patches 14 vulnerabilities.
WWDC 2023 dates are announced
That's all for this round of updates, but it looks like we'll have a lot more Apple news to discuss very soon. Apple has just announced dates for the 2023 Worldwide Developers Conference: June 5–June 9.
WWDC is Apple's annual event where new OSes, new features, and new hardware are showcased. This year, we expect iOS, iPadOS, and tvOS 17—along with watchOS 10 and macOS 14. 
There are also some announcements still just in the "rumored" stage. The folks at The Mac Observer say they're looking for an Apple Silicon-based M3 processor. But the announcement most people in the Apple world are hoping to hear at WWDC 2023? Apple's mixed-reality headset, expected to go on sale later in 2023.
Stay tuned for more WWDC 2023 news and updates!