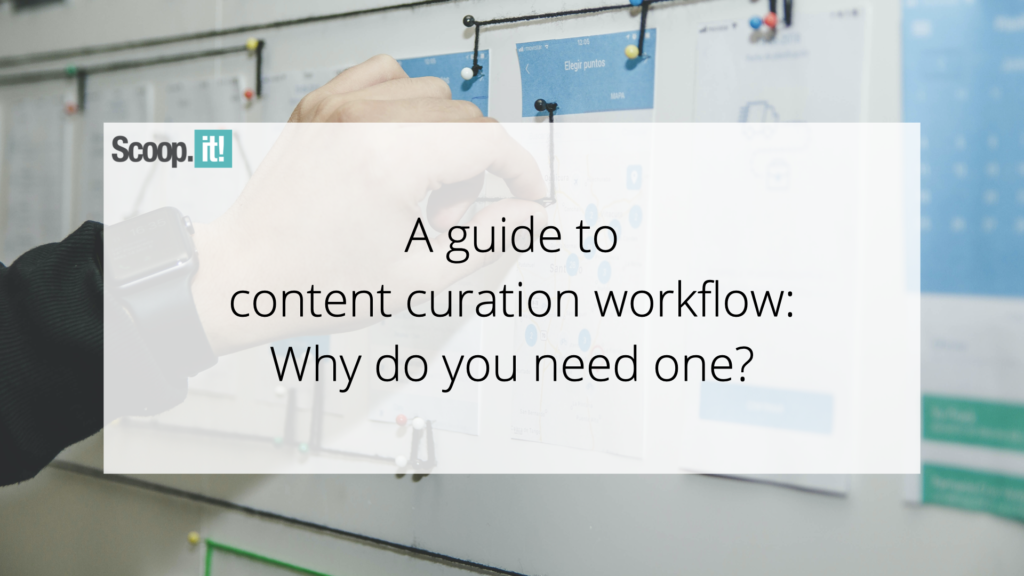 Did you know 82% of companies use content marketing to fuel their operations?
Content is king. It enables you to connect with the right audience and generate traction for your brand. However, for content to work its magic, you should be consistent in creating it.
This can be easier said than done, as content creation is an intricate and time-consuming process. So, it's important that you come up with effective ways to meet your audience's demands without having to overwhelm yourself. This is where content curation comes in.
Content curation is one of the most efficient tactics used by content marketers worldwide to get traction online. It's the process of leveraging relevant third-party content and sharing it with your audience to keep them engaged.
However, despite all the benefits associated with the process, there are a few things worth considering when curating content, as you wouldn't want it to backfire and do more harm than good.
For those who've just gotten started or are struggling to curate content effectively, here's a guide that may help you through the process.
The Importance of Content Curation
No matter which industry you represent, you are required to produce content in a consistent fashion to engage your audience.
Consistency in sharing content not only helps you attract more traffic but also boosts your online presence and enables you to climb the SERPs quicker than your competition.
However, 60% of marketers report that consistently producing quality content can be difficult. And this is one of the reasons why many end up compromising their content quality when trying to keep up with the production standards in their respective industries.
This is where content curation comes in handy. It allows you to share relevant content consistently with your target audience without having to compromise on quality. And that's not the only benefit content curation has to offer.
Content curation helps you expand your knowledge as you explore a variety of information sources to gather relevant data. So, you get a better understanding of what's working in your respective niche and make amends to your content strategy in accordance with it.
Plus, you get praised by your target audience for finding content that generates value and sharing diverse perspectives concerning the topic of interest.
Content curation also increases your chances of generating quality backlinks. When you explore and share information from third-party platforms, you're expected to credit and link to the original source of the information to keep things ethical.
Since you've been linking to third-party sources, there's a strong likelihood of them linking back to your content to return the favor.
Overall, content curation saves time and makes it easier for you to generate traction. It allows you to engage your target audience, but not at the expense of the quality of your content.
Image Source
Content Curation Workflow
To start curating content for your respective audience with ease, following the steps below may help.
Know Your Audience
Before you start curating content for your audience, it's essential to be acquainted with their needs and preferences first.
The content you put forth that best aligns with your audience's interests helps you generate 52% more organic traction in comparison with company-focused content.
So, it's essential that you know what type of content piques the interest of your target audience before initiating the curation process, as it will help you get more eyeballs and ensure better engagement.
Identify Relevant Topics
Once you've explored what interests the intended audience, the next step is identifying relevant topics that resonate with your niche.
There may be a lot of things that excite your target audience, but not all of them may fit your choice of niche.
The core objective here is to generate traction. However, you wouldn't want to attract junk traffic. So, it's essential that you identify suitable topics and curate content around them to make the most of your efforts.
Look for Reliable Sources
After you've identified relevant topics for content curation, the next step is finding reliable sources to collect data.
Here, you'd be exploring credible third-party sources that you can leverage to gather useful information for curation.
The goal here is to look for thought leaders in your respective industry or platforms that are acclaimed for the authenticity of the information they publish.
Find Relevant Content
Once you've found reliable sources of information, the next step is to determine whether or not the content they create aligns with your topic of choice.
Even if your niche is the same, it's possible that your chosen source of information may have a different audience profile than yours. So, you might have to take a look around and see if the selected sources have something worth sharing.
Ideally, you should spend 95% of your time trying to find and review relevant content, as finding the right information is the most difficult part of the content curation process.
Reach Out for Consent
Once you've found relevant sources of information and discovered content worth curation, the next step is reaching out to third-party platforms for their consent.
Curating content without the permission or consent of the originator is unethical. Not only does it give out a negative impression of your brand, but it may also lead you to face severe penalties due to copyright or regulatory violations.
Therefore, it's best that you reach out to your chosen sources of information prior to sharing their content with your audience.
Remember, not everyone would allow you to use their content for curation, and they have the right to decline. So, try not to pester and move on to the next prospect.
Validate the Information
Once you've gotten consent from the selected sources, the next step is validating the information you've gathered before sharing it with your audience. Content gets obsolete with time. So, it's important to check whether the information you've gathered is up-to-date.
Plus, when you share information from other sources, you can't simply take everything at face value. So, always fact-check the content before sharing it with your audience.
Start Sharing
Once you've validated the information gathered, you're all set to share the content with your target audience. However, it's highly recommended that you consider adding some value to it.
Content curation isn't a process where you take information from somewhere and share it with your audience as is. The process requires you to add something original from your end, and that's how you get the best results from it.
Track Performance
Just sharing curated content with your audience isn't enough. It's highly recommended that you track how it performs. This will help you improve your curation strategy and share content that's likely to get you high traction and engagement.
It's a Wrap
There you have it. The complete guide to the content curation workflow. If you've been finding it challenging to curate content for the intended audience or are just getting started with the process, follow the steps provided to find, curate, and share relevant content with your audience hassle-free.